Walks

In the Walks Picture Pages you'll find a lot of photo's from walks in the direct vicinity of the chalet.
Easy walks with your children, or exhausting trekkings: everything is possible.
The efficient public transport by train and bus in the rhone Valley and the Binn Valley take you quickly to the start or back to Bellwald.
During the snow season several winter-footpaths are prepared; these are marked in red on the winter map of Bellwald.
A few examples.
activities
walking
skiing
cross-country skiing
alpinism
cycling
paragliding
and more...
directly from the chalet:

Fiesch, 1 hour

A nice descending walk, as an appetiser; suited for small children. Back by train and cable-lift, or by foot (2 hours).
Aletsch Glacier, 4 hours

A climb to the Märjelensee at he bords of the glacier.
Gommer Höhenweg, 45 minutes (Niederwald) to 9 hours (Oberwald)

Along the north slope of the Rhone Valley, to Oberwald. On many places, you'll find shortcuts to the railway stations of the Furka-Oberalpbahn, that takes you back.
Risihorn, 2875 m, 3 1/2 hours

The top of the mountain that gave its name to the chalet.

starting nearby:

Fiesch - Kühboden - Eggishorn, 5 1/2 hours

There's also a cable-lift...
Kühboden - Bettmeralp, 1 1/2 hours

By lift from Fiesch to Kühboden. An easy walk brings you to (or further, to Riederalp); from there down into the valley by cable-lift. View e.g. on the Matterhorn. Train and cable-lift take you comfortably back to Bellwald.
Ernen - Alpe Frid, 2 hours

Steep footpath through the forest to the alp. Halfway a beautiful chapel from 1709. Superb view.
Alpe Frid - Eggerhorn, 2503 m, 2 hours

Quite a climb to the top, with a superb view.
Ernen -Rappental - Blinnental - Reckingen, 8 hours

Through the completely deserted Rappental, over a 2656 m pass and down to Reckingen in the Rhone Valley. Back by train and cable-lift.
Binn - Mässersee, 3 hours

To a mountain lake at 2150 m, swimming possible.
Binn - Geisspfad - Alpe Dèvero - Chriegalppass - Heiligkreuz - Binn

Trekking over two passes on the border with Italy.
and many many more.
the ideal map
with all tours
mentioned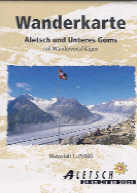 1:25.000
for sale
everywhere
in Switzerland